Okay, so you're off on holiday, your suitcases are packed, your passport's in that secret little zippy place in your handbag, your sunnies are on and you've been waxed and polished as if your life depended upon it. The only problem you have is choosing what reading material to pick from the vast array on the shelves of the Duty Free shop. Well, here's where I step in to help with a few fabulous recommendations...
Try as I might I really did attempt to narrow my list down to a small select few paperbacks but, with so many amazing reads out there accommodating a variety of tastes, I found it impossible to chose. So thinking 'what the hell' I decided the best course of action would be to stack my favourites into three, very neat, virtual book-shelves. Here goes with Part One...
SUMMER NIGHTS AT THE MOONLIGHT HOTEL - JANE COSTELLO
What The Blurb Says:


The Moonlight Hotel sits on the shore of England's best-loved lake, Windermere, exuding vintage glamour.
Lauren loves the hotel, for hidden inside its faded walls is the key to her most precious memories. So, along with her best friends, Cate and Emily, she signs up to a new dance class in its gorgeous ballroom. They aren't going for the men, they're going for a laugh - although a little romance wouldn't hurt...
But then a chain of events off the dance floor puts their friendship to the ultimate test, and makes Lauren question everything she holds dear.

I Say...
Think Strictly Come Dancing with a generous sprinkling of romance and lashings of humour thrown in and you'll get the picture. This is the perfect poolside read whilst soaking up the sun and sipping on a cheeky cocktail or two. Salsa anyone...?
SONGS OF LOVE AND WAR - SANTA MONTEFIORE
What The Blurb Says:
Castle Deverill, nestled in the rolling Irish hills, is home to three very different women: flame-haired Kitty Deverill, her best friend and daughter of the castle's cook, Bridie Doyle, and her flamboyant English cousin, Celia Deverill.
When war breaks out, the lives of all three are changed forever.
Wrenched apart by betrayal, their world turned to ash, the girls' friendship seems all but lost as they are swept to different parts of the globe. Yet, they have one thing in common: a fierce and unwavering longing or Castle Deverill and all the memories contained within it.

I Say...
If it's a beautifully written, high-brow read with a sweeping story-line you're after then look no further than this latest epic by Santa Montefiore. But be warned, this book is completely absorbing and once you delve in-between the pages you'll be completely oblivious to everything else going on around you!
Simon & Schuster UK ISBN: 9781471135866
www.simonandschuster.co.uk
www.santamontefiore.co.uk
twitter: @SantaMonteriore
THE COSY TEA SHOP IN THE CASTLE - CAROLINE ROBERTS
What The Blurb Says:
When Ellie lands her dream job running the little teashop in the beautiful but crumbling Claverham Castle it's the perfect escape from her humdrum job in the city. Life is definitely on the rise as Ellie replaces spreadsheets for scones, and continues her Nanna's brilliant baking legacy.
When Lord Henry, the stick-in-the-mud owner, threatens to burst her baking bubble with his old-fashioned ways, Ellie wonders if she might have bitten off more than she can chew. But cupcake by cupcake she wins the locals over, including teashop stalwart, Doris and Ellie's show-stopping bakes look set to go down in castle history!
Now all that's missing in Ellie's life is a slice of romance - can Joe, the brooding estate manager, be the one to put the cherry on the top of Ellie's dream?

I Say...


This is the second novel by new writer Caroline Roberts and very different in style from her debut, The Torn Up Marriage. If you fancy a slice of a cosy, light-hearted reading material set against a stunning Northumberland backdrop, then The Cosy Teashop in the Castle is for you. And there's even a recipe for the delicious-sounding Nanna's Choffee Cake that is the star of the castle teashop. Happy days!
Harper Impulse ISBN: 9780008125417
www.harperimpulseromance.com
carolinerobertswriter.blogspot.com
twitter: @caro_roberts
WE ARE ALL MADE OF STARS - ROWAN COLEMAN

What The Blurb Says:
Stella Carey exists in a world of night. Married to an ex-soldier, she leaves the house every evening as Vincent locks himself away, along with the scars and the secrets he carries.
During her nursing shifts, Stella writes letters for her patients to their loved ones - some full of humour, love and practical advice, others steeped in regret - and promises to post these messages after their deaths.
Until one night Stella writes the letter that could give her patient one last chance at redemption, if she delivers it in time...
I Say...
Oh, Goodness, where to start with this book...? It's thoughtfully written and, despite its subject matter, leaves you with a feeling of optimism. Though, be warned, you'll find yourself experiencing the full gamut of emotions as you delve deeper into the story. Oh, and it would be wise to keep a box of hankies handy, too. I guarantee you won't be disappointed if this beautiful and poignant novel finds its way into your beach bag.
THE ONE WE FELL IN LOVE WITH - PAIGE TOON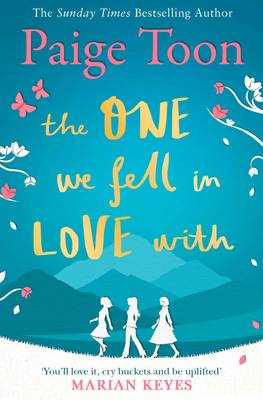 What The Blurb Says:
Phoebe is caught between a rock and a hard place. Settle down and get married, or return to the French Alps to pursue her passion?
Eliza is in love with someone who is no longer hers. In fact, he probably never was...And her dream of becoming a successful musician seems to be vanishing before her eyes.
Rose is out of a job and out of a boyfriend. To make matters worse, she's been forced to move back in with her mother...
But these very different girls have one thing in common. ANGUS. The one they fell in love with...
I Say...
When a set of beautiful, blonde-haired, green-eyed triplets all fall in love with the same man you can imagine the outcome will be eventful, and you wouldn't be wrong! Interestingly, the story is told from each triplet's point of view, which makes the characters wonderfully well-rounded. Another read that'll whisk you off on an emotional roller-coaster, so keep those hankies within reach!
THIS SECRET WE'RE KEEPING - REBECCA DONE
What The Blurb Says:
Jessica Hart has never forgotten Matthew Landley.
After all, he was her first love when she was fifteen years old. But he was also her school maths teacher, and their forbidden affair ended in scandal.
Now, seventeen years later, Matthew returns with a new identity, as well as a long-term girlfriend and a young daughter who know nothing of what happened before. Yet when he runs into Jessica, neither of them can ignore the emotional ties that bind them together.
With so many secrets to keep hidden, how long can Jessica and Matthew prevent the dark mistakes of their past from exploding in the present?
I Say...
This is the debut novel from Rebecca Done proving she doesn't shy away from controversial topics. Told from the perspective of both Jessica and her forbidden lover, Matthew, it's bound to set various moral compasses awry. Well written, different and definitely thought provoking.
Well, that's Part One done and dusted. Now on to Part Two...

(NB I used the blurb from the back of each individual book as this already sums up the story perfectly!)